Description: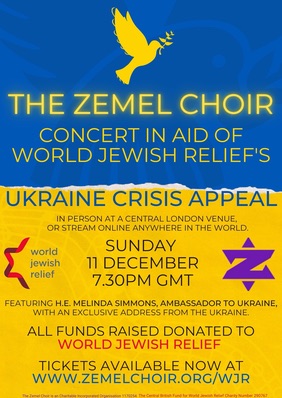 Harmony and solidarity comes to a Central London venue on 11th December as the internationally celebrated Zemel choir, in partnership with World Jewish Relief, present a concert in aid of the WJR Ukraine Crisis Appeal.

The concert will include music by Jewish Ukrainian composers, music celebrating European Jewish culture, and music celebrating the upcoming festival of Chanukah. The programme will include compositions by composers including Janowski and Finkelstein. The evening will feature video message and pre-recorded performance from the Shrtudel band, a well-known Ukrainian Jewish singing group.
Guest soloists include Cantor Robert Brody, Cantor Paul Heller, Ann Sadan, Julieta Kunik and Benjamin Seifert accompanied by Dr Franklyn Gellnick.

During the event, the British ambassador to Ukraine, H E Melinda Simmons, will make a special online appearance with an exclusive address from Ukraine. The President of the WJR and former president of the Board of Deputies, Henry Grunwald OBE KC is compering the evening.

As we enter the ninth month of the Russian invasion of Ukraine, join us as we express our solidarity with the people of Ukraine and support World Jewish Relief in its efforts to bring relief to its citizens.
The Zemel Choir concert will be at West London Synagogue venue on Sunday December 11th at 7.30pm.
The concert will also be live streamed.